GERMAICA DIGITAL presents an:
UPLIFTMENT INT'L/DREADSQUAD PROD.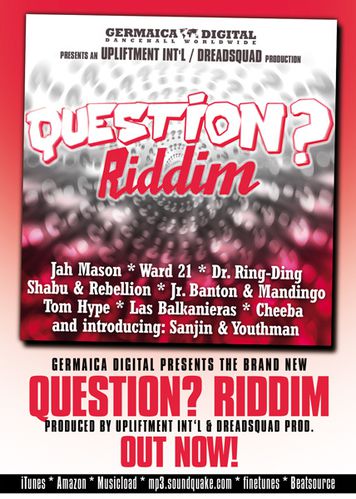 QUESTION? RIDDIM – V.A.

1st Question: Why Jah Mason records his 1999 smash hit "Fire" again as "Fire 2011"?
2nd Question: Why the Ward 21 tune "Jump & Skip" was released previously already on a different label?
3rd Question: Why Dr. Ring-Ding with German/French origin is biggin' up "Polish Vodka"?
4th Question: Why Shabu with catholic & Rebellion with islamic confession don't kill each other but deliver "Keep me original" a combination with lyrics about God?
5th Question: Why Jr. Banton & Mandingo sound like they recorded their tune "Daggadang" back in 1992?
6th Question: Why Tom Hype - first Artiste on our latest local division GERMAICA AUSTRIA sings all lyrics of his tune in Patois except for the title word "Euros"?
7th Question: Why the Las Balkanieras song on the riddim was renamed from "Marin" to "Mladen"?
8th Question: Is it just coincidence that Cheeba of EASTWEST ROCKERS from Wroclaw calls his contribution to the riddim"Wysokie loty" which means "Fly High" like the dance of UPLIFTMENT INT'L?
9th Question: Are Sanjin & Youthman signed to GERMAICA BALKANS now and is "Vadim Pistolj" supporting the violence in the Dancehall?
10th Question: Why the Dreadsquad relick of the classic "Answer Riddim" was re-named to "Question? Riddim"?
***
Title: Question? Riddim
Artiste: Various
Format: Album (Digital)
Label: Germaica Digital
Producer: Upliftment Int'l for Topp Ent./Germaica Digital
Musician: Marek Bogdanski for Dreadsquad/Germaica Digital
Master: Marek Bogdanski for Dreadsquad/Germaica Digital
Release: Jan. 28th 2011
Distributor: mp3.soundquake.com
Upliftment Int'l - Question? Riddim Megamix
Shabu & Rebellion - Keep Me Original(video)